How can the world get to carbon neutral by 2050? This is the date the Paris Agreement specified for getting away from the activities that produce greenhouse gasses (see here). Many would argue that that the Paris agreement was not ambitious enough. Still, we don't currently have a clear plan to reach carbon neutral by 2050, so we had better work out how to do that at a very minimum. Thankfully there are lots of ways we can do better. Indeed, many elements of progress have already started. Michael Lenox and Rebecca Duff from Darden, University of Virginia (where I did my MBA), outline ways that we could get to net zero. What then is the path to 2050 and a carbon-neutral world?
Books For, And From, Managers
This book is an impressive collection of ways that the world can get to net zero. It is well-researched and contains a plethora (I'm awarding myself points for using that word) of details about various industries and how they are already are, or could, contribute to decarbonization. I can see why a manager who cared about sustainability would love to read this book. It is practical but also maintains a focus on the urgency of change. It is about making things happen, and what business can do about it.
I can say with certainty it speaks to managers as I was handed my copy by Joe Rozza, CSO (Chief Sustainability Officer) of Ryan Companies, a major real estate firm. What's more, it is endorsed by Katherine Neebe CSO of Duke Energy, a classmate from Darden. It is a book for, and in my case from, managers.
As won't be too surprising in a business-focused book, markets play a key role in the solutions. That said, the authors don't have mindless optimism that things will all turn out for the best if we just leave well alone.
We believe that markets function within a broader set of institutional structures that establish the rules of the game and determine how they function.

Lenox and Duff, 2021, page 7
If we want things to turn out okay then we need to look at how markets work and what is rewarded. If emitting carbon is free to them businesses will tend to emit carbon. Markets typically won't solve the problem unless market participants have an incentive to do so.
The Path To 2050
The electrical grid is central to success in decarbonization.
At the end of the day, the ability to scale renewables will depend heavily on an electric grid that can handle two-way communication and vast amounts of distributed resources and data, all while ensuring the lights stay on.

Lenox and Duff, 20121, page 40
The grid of the future is an exciting idea. Consumers will become 'prosumers' as their houses both produce energy for the grid (e.g., from solar panels) which can save them money, while also taking energy from the grid when needed. The grid should be more resilient too. I am hoping that we won't lose power as much when I'm watching TV. What's not to like about the change?
The Five Pillars
They look at five areas/pillars that are most relevant to the change:
Energy
Transportation
Industrials
Buildings
Agricultural
Within each pillar the authors give good practical advice. They also note sector specific problems.
I'll concentrate on the building sector. Consider rental properties. Separation between owner and occupier often creates dulled incentives to be more efficient. For example, in many places those owning the property end up paying for energy efficiency improvements. Under the same system, the savings will often be gained by tenants who pay the day-to-day bills. Of course, rents could be raised to cover utilities and then the property owners would pay the utility bills and so benefit from any efficiencies they invest in. Unfortunately, that just moves the problem. Now renters have little incentive towards efficiency. They can happily turn the air conditioning up and have long showers as they aren't paying for the energy. Incentives are a challenge.
Mass Timber And Investing For The Long-Term
The authors note the use of mass timber buildings. Multi-story wood buildings seem pretty cool to me (and can help address the surprisingly big problem of cement). I accept that they aren't perfect for everything but the authors helped pique my interest in understanding the area more.
The authors also talk about the problem of long payback periods. Even when investments make financial sense the managers who approve the investments might be long gone by the time the benefits are fully felt and rewards given out. This has always been a source of concern for marketers — brand-building often pays back only in the long term. How can we create a long-term focus amongst managers — and get the incentives in place to drive smart (long-term) investments?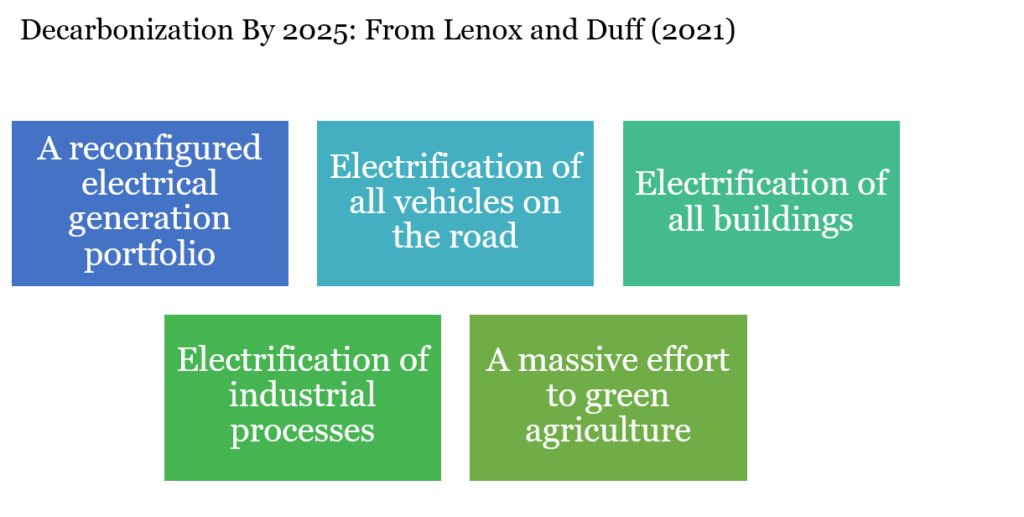 The Decarbonization Imperative is a book I am happy to heartily endorse for its wealth of detail and positive ways to reach net zero.
For more on sustainability see here.
Read: Michael Lenox and Rebecca Duff (2021), The Decarbonization Imperative: Transforming the Global Economy By 2050, Stanford Business Books.