As regular readers will know I do a lot of work with MASB (the marketing Accountability Standards Board). Some of my colleagues at MASB wrote a paper about brand valuation. I want to highlight and reinforce their message. A key part of this is that the internal measurement of brand value is crucial to bringing greater accountability to marketing.
Waiting For FASB
There is a tendency for many marketers to make a grand (true) statement around accounting for marketing. For instance, 'accounting does a terrible job of capturing the value created by marketing'. It isn't always clear what they expect to happen next. I know what will happen. Nothing. Marketers just wait for FASB (the financial accounting standards board) to change. As a result, we all get old without making any obvious progress. (I do sometimes wonder whether FASB actually exists. Is a marketer waiting for FASB some sort of clever metaphor for something or other?)
To be fair to accounting standards setters, like FASB, it does seem a bit of a cop-out for marketers to expect someone else to do something about what is seen as marketing's problem.
'What do we want?' 'We aren't exactly sure'.
'When do we want it?' 'Now'.
What Do The Authors Want
The authors are much more specific. They build on standards from ISO (Brand Evaluation, ISO 20671:2019 and Brand Valuation, ISO 20668:2010) for their argument.
For brand-centric companies, internal measurement, analysis, and reporting of FVB [financial value of brands] is the more realistic, near-term alternative.

Meier, Pace, Rao, & Findley, (2021, page 19)
Marketers can, and should, get a measurement system in place (with the help of management accountants) while we are waiting for FASB.
Annual Reporting
The internal measurement of brand value needs to be regular. It must be annual at a very minimum. This will mean that numbers can be compared over time. Accountability can be created when all can see in which direction the numbers are heading. (Often the direction of movement is informative even if the underlying number is imperfect — as brand valuations are likely to remain for the foreseeable future).
Regular measurement of the financial value of brands demonstrates the material contribution of brands to the overall value of the enterprise and provides an excellent management decision-making tool to enhance long-term enterprise value.

Meier, Pace, Rao, & Findley, (2021, page 3)
A Process For Measuring Brand Value
To this end, the authors lay out a 4 step process for brand valuation. A summary of this is below.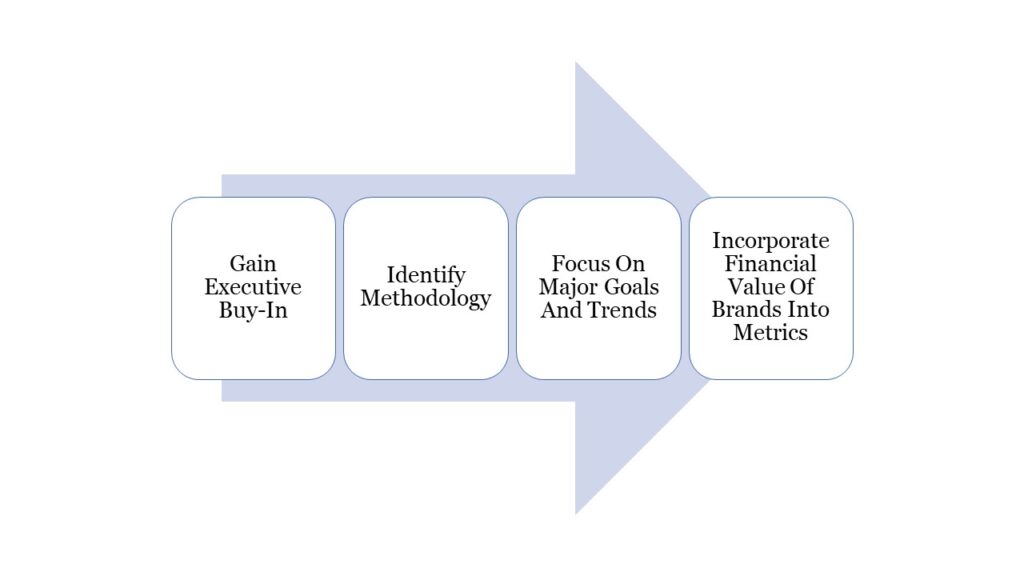 Internal Measurement Of Brand Value
The point is that marketers, and other managers, can do something. What is more, they can do something now. Marketing accountability isn't something we need to wait on. We can make progress even before FASB acts (if it ever does).
For more on brand valuation see here, here, and here.
For more on management accounting see here, here, and here.
Read: Jim Meier, Tony Pace, Vithala Rao, and Frank Findley (2021) The Financial Value of Brands Imperative, MASB (Marketing Accountability Standards Board) June