I teach Measurable Marketing.
My 2013 syllabus: 2013 Neil Bendle 4573 Measurable Marketing Syllabus. Teachers please contact me for more up to date material if you are planning a course.
I would recommend the following resources:
MASB: Marketing Accountability Standards Board
And another plug for our book which is used in a number of university courses and is published by Pearson/Wharton School Publishing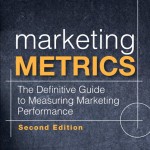 And for a technical note with our in-house online marketing expert Raymond Pirouz published by Ivey Publishing, Online Metrics: What Are You Measuring and Why?
Search my blog for posts on metrics which include:
Market Share is Malarkey
Does Acquisition Cost Reduce Customer Lifetime Value?
How Bad Metrics Help
Marketers Prefer Contribution